CustomVision™ Wavefront LASIK & PRK at Stahl Vision Laser Eye Center in Dayton Ohio
Beyond 20/20 is a Reality for Many at Stahl Vision!
Glossary:  A Wavefront Map is an infinitely more precise way of measuring the optics of your eye so as to be able to find even the smallest levels of optical aberration and distortion that can blur your vision. We use the Wavefront Map at Stahl Vision as the best measurement of your eye's vision system.  Wavefront guided LASIK is used in Custom LASIK treatments like CustomVision™.  CustomVision™ is a refinement of Custom LASIK by Stahl Vision to achieve high contrast vision. We perform CustomVision™ using the Wavelight Allegretto Wave® Eye-Q Excimer Laser. The Wavelight Allegretto Wave® Eye-Q provides exceptional levels of safety and effectiveness through the use of Smart Energy Control, Eye Tracking Technology and High Speed delivery of the laser energy to accomplish the quickest and most precise vision correction.
With yesterday's technology, LASIK surgeons basically tried to help people achieve equivalent equal vision to what was obtained with their glasses or contacts. By using Wavefront technology to guide CustomVision™ treatments, vision can often be corrected beyond glasses and contacts. It's the difference between regular and high definition TV- with CustomVision™, we are striving for High Contrast Vision.
Wavefront technology was originally pioneered in the field of astronomy and physics to aid in reducing "aberrations" or imperfections in the multiple lenses of telescopes. At Stahl Vision, rather than relying exclusively on the "refraction" test during your ey examination, we use the measurements taken with the Aberrometer during your consultation, to provide us with an accurate assessment of the optical imperfections found in the entire eye's optical system.
HERE IS HOW THIS ADVANCED WAVEFRONT TECHNOLOGY WORKS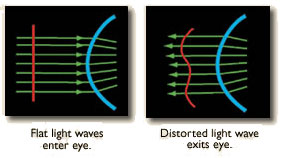 First, flat waves of light are passed through your eye using a computerized wavefront-measuring instrument called an Aberrometer. As the light waves travel through your eye's optical system, the imperfections in the eye distort the flat light waves. The Aberrometer captures the distorted waves as they exit your eye and compares them to the perfectly flat light waves that would have been reflected if your optical system had no distortions.
The Wavefront measurement and capture system used to drive this technology is 25 times more precise than conventional methods used to take measurements for glasses and contacts. Coupled with the rapid tracking system of the Wavelight Allegretto Wave® Eye-Q Excimer Laser, this precise map or "fingerprint" of the eye can then be translated onto the surface of the eye rapidly and safety.
Many people wearing glasses and contacts complain about their night vision and don't like to drive at night. One of the reasons for poor night vision is because of the tiny imperfections in their vision in addition to being nearsighted or farsighted. These tiny aberrations, which cannot be corrected with glasses or contacts, can cause disturbing problems like halos and glare with your night vision.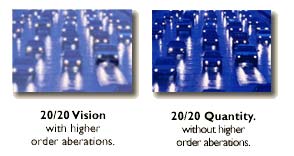 Thanks to CustomVision™ LASIK and Stahl Vision, we are able to detect, diagnose and correct these aberrations resulting in better clarity and improving night vision. Many patients are telling us they have never seen this well before.
Using this advanced wavefront technology, years of experience and tracking the results of thousands of patients to "fine tune" results for each individual person based on their unique eyes, Drs. Stahl & Knowles are achieving the best results they have ever measured:  99.2% of patients are 20/20 or better, and 83% are better than 20/20! * For many patients, this is better than they have ever seen with glasses or contacts.
Our practice is the only practice in this area to offer CustomVision™ utilizing Wavelight Allegretto Wave® Eye-Q wavefront technology to measure and address simple vision correction problems such as nearsightedness, farsightedness and astigmatism, as well as the higher order aberrations that cause the more subtle visual imperfections in the eye's optical system. Unless higher order aberrations are addressed during Laser Vision Correction, the quality of your vision may not be ideal, even if you have post-operative vision of 20/20. *Wavefront patients measured bilaterally.
Stahl Vision Laser & Eye Surgery Center in Dayton Ohio is conveniently located for patients seeking CustomVision™ Wavefront Laser Eye Surgery including LASK & PRK from Troy, Tipp City, Sidney, Greenville, New Carlisle, Springfield, Huber Heights, Fairborn, Centerville, Beavercreek, Bellbrook, Kettering, Oakwood, Dayton, Trotwood, Englewood, Brookville, Germantown, Vandalia, Eaton, Xenia, Jamestown, Washington Court House, Yellow Springs, Carlisle, Franklin, Springboro, Waynesville, Lebanon, Mason, Oxford, and Middletown Ohio. Please call Stahl Vision at 937.643.2020 to schedule an appointment for an examination and consultation for CustomVision™ Wavefront LASIK Laser Eye Surgery or CustomVision™ Wavefront PRK Laser Eye Surgery.
At Stahl Vision, patient safety & results are our top priority. While most of our patients are very pleased with their results, like all medical procedures, there are risks involved.
Click here for a full list of risks and considerations associated with LASIK and our technology.