Crystalens® Intraocular Lens Implants (IOLs) for Refractive Lens Exchange and Cataract Surgery in Dayton Ohio
About the Crystalens® Lens Implant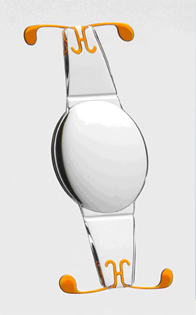 The Crystalens® is the first FDA approved implant that functions similar to our natural eye by moving and changing shape in the eye to focus upclose. When we were younger our eye focused up close naturally, something called accommodation. As we age past our mid-forties we lose enough of that ability that we start wearing reading glasses. To restore some of that ability to see upclose, the Crystalens® moves and flexes within the eye allowing it to change power. This lens allows clear vision at distance and intermediate, but the closest point of clarity is not as close as with some of the other multifocal lenses (see Tecnis Mulitfocal and ReSTOR). Some patients will need reading glasses for very small print or if objects are close up. The advantage of this lens is less night glare, and sharper contrast than with other lens designs.

Plusses: Sharp vision day and night, better intermediate vision. Able to drive, see the dashboard on the car, desktop computers, cook, see the dinner table, and reading with good light and moderate print size.
Minuses: may still need readers for very small print or looking very close
The best way to determine if the Crystalens® is the best choice for you is by coming in for a complete eye exam. Once our surgeons have measured and examined your eyes, we can discuss your lifestyle and near vision needs and discuss which procedure will help you see your best.

How the Crystalens® Multifocal Implant Lens Works


Whether it is LASIK Eye Surgery, Refractive Lens Exchange, or Advanced Cataract Surgery, eye surgeons Dr. Brian Stahl and Dr. James Knowles have the experience and technology to help you see your best with a Crystalens Implant Lens. Our regional Ohio eye center puts Stahl Vision, Laser Vision Correction of Dayton, and Eye Laser and Surgery Center all under one roof. Conveniently located for patients interested in Crystalens from Sidney, Springfield, Urbana, Dayton, Cincinnati, West Chester, Eaton, Xenia, Jamestown, Franklin, Springboro, Waynesville, Lebanon, Mason, Oxford, and Middletown Ohio.