ReSTOR® Bifocal Intraocular Lens Implants (IOL)s for Refractive Lens Exchange and Cataract Surgery in Dayton Ohio
About the ReSTOR™ Lens Implant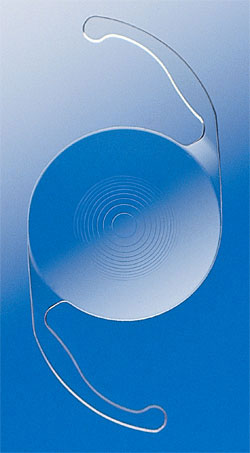 When we were younger our eye focused up close naturally, something called accommodation. As we age past our mid-forties we lose enough of that ability and we start wearing reading glasses. To restore some of that ability to see upclose, the ReSTOR® Bifocal Lens uses diffractive optics to split the incoming light into focal points for distance and near. By concentrating the diffractive optics to the center of the lens, the ReSTOR lens favors distance vision in dim light conditions like driving at night. By incorporating correction for spherical aberration, the ReSTOR maintains better night vision. Unlike accommodating lenses like the Crystalens, all multifocal lenses (Tecnis, and ReSTOR), have some compromise to night vision and distance vision with slight glare and halos. This is inherent in the design, as they split the incoming light. This night glare tends to diminish over time. ReSTOR implant lenses come in several strengths that allows your doctor to customize your vision to the distance you use most for near and enable you to read smaller print sizes.

How the ReSTOR ® Bifocal Implant Lens Works
The ReSTOR Lens works by splitting the light reaching the eye into two focal points, providing good vision at near and far. The ReSTOR implant lens uses diffractive optics concentrated in the center of the lens surface, and works best for reading in bright light conditions. While the optical qualities of these lenses allows patients to see distance and near, some intermediate distances may be a little out of focus. Along with the ReSTOR, this lens has some night glare and halos around lights. This night glare is very noticeable at first, but improves over time. ReSTOR implant lenses come in several strengths that allows your doctor to customize your vision to the distance you are most comfortable reading. The ReSTOR can now correct astigmatism as well, allowing it to be used in a wider range of patients.
Strengths: You can see to drive and play sports, as well read. Laptops, cell phones, Kindles, paper back books, needle point, newspaper, etc… are all in clear view.
Weaknesses: Some glare/halos and loss of contrast with night driving that improves over time, slightly less clear intermediate (music stand, some desktop computers). Not as good for reading in dim light conditions.

Imagine being able to see your world as well as you did when you were younger, without the help of glasses and contacts, or reading glasses. The best way to determine if the ReSTOR implant lens is the best choice for you is by coming in for a complete eye exam. Once our cataract surgeons, Drs. Stahl and Knowles, have measured and examined your eyes, we can discuss your lifestyle and near vision needs and discuss which procedure will help you see your best.

Whether it is LASIK Eye Surgery, Refractive Lens Exchange, or Advanced Cataract Surgery, eye surgeons Dr. Brian Stahl and Dr. James Knowles have the experience and technology to help you see your best with a ReSTOR Implant Lens. Our regional Ohio eye center puts Stahl Vision, Laser Vision Correction of Dayton, and Eye Laser and Surgery Center all under one roof conveniently located for patients from Sidney Ohio, Springfield Ohio, Urbana Ohio, Dayton Ohio, Cincinnati Ohio, West Chester Ohio, Eaton Ohio, Xenia Ohio, Jamestown Ohio, Franklin Ohio, Springboro Ohio, Waynesville Ohio, Lebanon Ohio, Mason Ohio, Oxford Ohio, and Middletown Ohio.