CustomVision™ Wavefront LASIK & PRK at Stahl Vision Laser Eye Center in Dayton Ohio
Beyond 20/20 is a Reality for Many at Stahl Vision!
At a Glance: If you have been waiting to have LASIK because you wanted the latest and best technology, the best prices, and the best results, well then your wait is over. Advances in measurement technology, using topography based meaurements and wavefront analysis now allow us to correct the fine aberrations unique to each persons eyes to improve the image quality, contrast, and definition of the vision people experience with LASIK plus PRK. A Wavefront Map is like taking a fingerprint of the total optics of the eye, from the cornea to the retina, and is an infinitely more precise way of measuring the optics of your eye. A topography measurement measures the fine imperfections in the cornea, where most of the irregularities occur. Recently approved topography based LASIK (Topo-LASIK or Contoura LASIK) is the first FDA approved advancement in LASIK in over a decade! Topo-Lasik has the highest satisfaction rate of any LASIK procedure. And Topo-LASIK had the highest percentage of patients seeing 20/20 and better than 20/20. But our exclusive CustomVision technology doesn't stop there. Dr. Stahl's trademarked CustomVision technology uses exclusive nomograms to take our vision results far beyond the results found in FDA trials, and those found at other centers. Customized treaments go by several names including Topo-LASIK, Contoura LASIK, CustomCornea, Custom LASIK, Wavefront Guided LASIK, Wavefront Optimized LASIK, and Dr. Stahl's own trademarked CustomVision™. CustomVision™ is a refinement of LASIK using advanced nomograms and wavefront imaging technology combined with topography measurements to achieve high contrast vision. We perform CustomVision™ using the Wavelight Allegretto Wave® Eye-Q Excimer Laser-- the fastest and most advanced laser platform available providing exceptional levels of safety and effectiveness.
Wavefront technology has been used in astronomy and imaging technology to improve imaging, contrast, and definition for decades. Its use in laser eye surgery started in the late 1990's when it was recognized that correcting more than just nearsightedness, farsightedness, and astigmatism could improve how well someone can see after their LASIK surgery, especially in low light conditions.
With yesterday's technology, LASIK surgeons basically tried to help people achieve equivalent equal vision to what was obtained with their glasses or contacts. By using Wavefront technology and topography measurements to guide CustomVision™ treatments, vision can often be corrected beyond glasses and contacts. It's the difference between regular and high definition TV- with CustomVision™, we are striving for High Contrast Vision.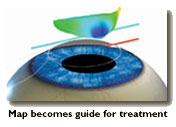 The Wavefront measurement and topography measurements used to drive this technology is 25 times more precise than conventional methods used to take measurements for glasses and contacts. Using both technologies allows us to plan the very best treatment for your individual eyes. And when Coupled with the rapid tracking system of the Wavelight Allegretto Wave® Eye-Q Excimer Laser, this precise map or "fingerprint" of the eye can then be translated onto the surface of the eye rapidly and safety.
Many people wearing glasses and contacts complain about their night vision and don't like to drive at night. One of the reasons for poor night vision is because of the tiny imperfections in their vision in addition to being nearsighted or farsighted. These tiny aberrations, which cannot be corrected with glasses or contacts, can cause disturbing problems like halos and glare with your night vision.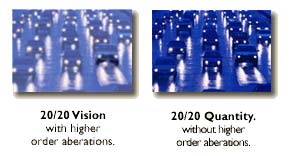 With the marriage of wavefront technology and topography measurements, we are able to detect, diagnose and determine the ideal way to correct these aberrations resulting in better clarity and improving night vision. Patients are 4 times more likely to have an improvment in their night vision than a worsening with this advanced technlology. Many patients are telling us they have never seen this well before.
But CustomVision™ doesn't just stop there. By using using advanced nomograms based on the results of tens of thousands of patients, and 20 years of experience, Dr. Stahl has taken our visual results to an even higher level! Our results far exceed those of the FDA trials, and exceed the results of other centers. By "fine tuning" the results for each individual person based on their unique eyes with our nomograms and using CustomVision™ technology driven with wavefront and topography guided LASIK, Drs. Stahl & Knowles are achieving the best results they have ever measured: 99.3% of patients are 20/20 or better, and 81% are better than 20/20! * For many patients, this is better than they have ever seen with glasses or contacts.
O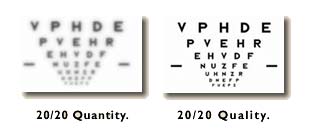 ur practice is the only practice in this area to offer CustomVision™ utilizing Wavelight Allegretto Wave® Eye-Q lasers, coupled with advanced wavefront technology and topography measurements to ensure the best results.
*Myopic patients measured bilaterally.

Stahl Vision Laser & Eye Surgery Center in Dayton Ohio is conveniently located for patients seeking CustomVision™ Wavefront Laser Eye Surgery, Topography guided LASIK (topo-LASIK or Contoura LASIK plus PRK), from Sidney Ohio, Springfield Ohio, Urbana Ohio, Dayton Ohio, Cincinnati Ohio, West Chester Ohio, Eaton Ohio, Xenia Ohio, Jamestown Ohio, Franklin Ohio, Springboro Ohio, Waynesville Ohio, Lebanon Ohio, Mason Ohio, Oxford Ohio, and Middletown Ohio. Please call Stahl Vision at 937.643.2020 to schedule an appointment for an examination and consultation for CustomVision™ Wavefront LASIK Laser Eye Surgery or Topography Guided LASIK Laser Eye Surgery.
At Stahl Vision, patient safety & results are our top priority. While most of our patients are very pleased with their results, like all medical procedures, there are risks involved.
Click here for a full list of risks and considerations associated with LASIK and our technology.