Dr. Stahl Voted BEST OPHTHALMOLOGIST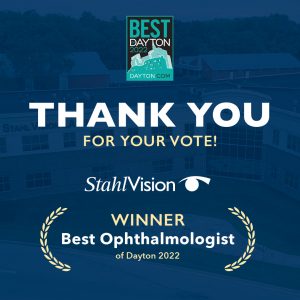 Brian Stahl, MD was voted by the community in the Best of Dayton 2022 as best ophthalmologist. The Dayton Daily News and Dayton.com annually hosts the voting for Best of Dayton to celebrate the community's favorites across categories like health care, shopping, living, and life in the region.
"It's an honor to be recognized and chosen by our Dayton community. For over 25 years I have had the honor of serving the Miami Valley through LASIK and cataract surgery. It is the people we help that continues my passion for eye care," states Dr. Brian Stahl.